Breaking: President Schapiro Allows First- and Second-Year Students to Visit Campus Once "As a Treat"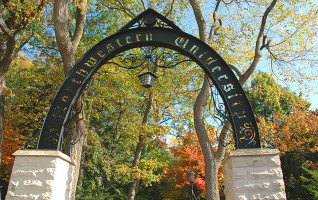 Last Tuesday evening, Northwestern University president Morton Schapiro sent the undergraduate student body a long-awaited announcement detailing the circumstances of the return to campus for the new year, with a certain caveat: freshman and sophomores will only be treating themselves to one visit in winter quarter.
First- and second-year undergraduates at Northwestern were disappointed to hear that they would not be invited to campus this fall, only nine days before their anticipated move-in date. Since then, students at home have been eagerly awaiting an update for the winter; at long last, their questions have finally been answered. "All first- and second-year students can come visit campus once this winter, if they want," said Schapiro. "You know, as a treat."
All over the world, previously house-ridden students have rejoiced, celebrating in digital droves. In a Zoom statement, freshman Tara Roald said, "I'm so excited to finally be seeing Northwestern in person. I'll have to pay for my flight from California and quarantine for two weeks in the Hilton before stepping onto campus for the first time, but I know it'll all be worth it when I get to wave at a couple of real-life students. I might even take a few steps down Sheridan Road!"
Schapiro's announcement additionally outlines plans for various on-campus activities: "Any student gatherings that include first- and second-year students are strictly prohibited, and those students may not be present on campus for more than seven hours total over the course of the quarter." The one exception to this rule is campus tours, where Northwestern's unfledged arrivals will be able to see firsthand the innovative, multimillion-dollar facilities that will not be enjoyed by anyone next year.
When asked for comment, an eager sophomore, Harry Sitch, responded, "Yeah, man! I mean, we're not, like, allowed into buildings or anything, and it's, like, Chicago frigid, but at least I won't have any trouble keeping my White Claw cold when I crack it open on the Lakefill!"