Responding to Sadness that $5 Tuesday is Over, Morty Launches Invest $5 in Fossil Fuels Friday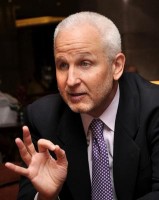 Many students are still mourning the loss of $5 Tuesdays after last week's announcement that Evanston's Century 12 movie theater will be closing. Hearing these students' concerns, university president Morton Schapiro quickly came up with a solution: Invest $5 in Fossil Fuels Friday.
"We could not be more excited about this new initiative," said Schapiro. "We are always looking for more ways to engage the student body in capitalist brainwashing. Now that we know many students have five free dollars to give to major corporations, we look forward to maximizing their spending for the University's benefit."
Northwestern's Radio/Television/Film department was quick to point out that the loss of the cinema could not be filled by investment opportunities. However, the Economics department released an official statement claiming that "art serves no economic function unless it turns a profit and/or has a pro-capitalist agenda." Schapiro, agreeing, offered to show screenings of The Pursuit of Happyness and The Founder to all $5 Fridays participants.
In addition to RTVF kids, many students expressed concerns over the initiative. "If Morty wants us investing so much, he should have told everyone to invest in my theme park company. There's no better time to be in the in-person entertainment, crowd-necessitating business," said Brad Goth, a student in one of Schapiro's classes.
Responding to the initiative, a Fossil Free NU representative told the Flipside, "I wish I was more surprised that Morty is trying to increase NU's contribution to fossil fuels. Luckily, any students that would actually have the money to invest in fossil fuels are probably spending it for Spring Break in Cabo instead." It is worth noting that Goth confirmed that his plans to buy a lot of body shots in Cabo have made him reluctant to participate in Schapiro's initiative.
As activists continue to advocate for Northwestern's divesting from fossil fuels, Schapiro remains firm in his stance. "As long as students are able to inflate the stocks of our fossil fuel investments, I can continue to increase the budget surplus, which will never be felt by NU students or employees."