Local Woman Who Cried During Asynchronous Journalism Lecture on The West Wing Doing Just Fine, Why Do You Ask?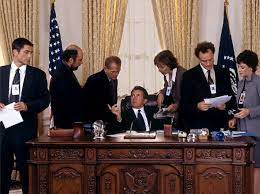 Midterm season rears its ugly head once again! Medill freshman Alyssa Rausch was spotted cowering in that one booth in the bottom part of Norris that's bowling themed for some reason, sobbing uncontrollably into a MOD pizza box. When concerned passers-by inquired what was the matter, it appeared the reason for Rausch's desperate, primal screeches was an asynchronous journalism lecture on the political drama The West Wing.
"She said something about the show being 'the zeitgeist of the early 2000s political climate'?" said Georgia Simons, Rausch's roommate. "When I tried to give her a tissue, she started crying about how Dulé Hill was underutilized. I don't know where she's getting all this from. She's only seen four episodes, and it was during her eighth-grade speech and debate class."
Medill professor Polly Tickle, who teaches Rausch's journalism class, offered comments to the Flipside regarding Rausch's apparent breakdown. "It's just supposed to be an example of uses and gratifications in the media. The video lecture was only 10 minutes long. Also, this is an asynchronous, open-note and Internet class."
CAPS were called onto the scene, fully equipped with a purple Wildcats straitjacket and therapy dogs, but Rausch eventually calmed down after Simons led her on a Sorkin-style walk and talk around Norris.