How to Wear a Tennis Skirt Un-Ironically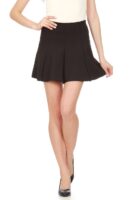 Because Flipside and Cosmopolitan totally appeal to the same audiences, here are five ways to style one of Summer 2021's hottest new trends:
With a sorority t-shirt, white Air Force 1s, a spray tan, and dyed blonde hair because if you didn't already own a massive amount of Lululemon, you wouldn't have gotten a bid in the first place.
With an oversized pastel sweatshirt and black Doc Martens (or off-white chunky dad sneakers) because God forbid you dress too girly.
With a cropped sweater/tank top/cami, a matching cardigan, a hobo bag from the '90s, white go-go boots, and a pair of sunglasses that don't actually block any sun because #mylipglossiscool #mylipglossbepoppin #y2k #instagramislife.
With an argyle sweater vest or vintage college sweatshirt because your professor who's fresh out of grad school might find you cute enough to give you a good grade.
With a workout tank top, tennis shoes, a visor, a racquet, and some Gatorade because SURPRISE! Tennis skirts can be worn while playing tennis.