Theater Major Shadow Boxes Before Entering Job Market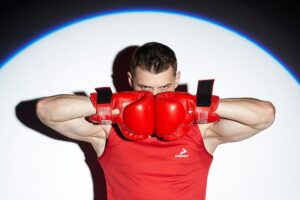 The Dean of the School of Communications E. Patrick Johnson revealed this year's senior theater final to be a battle royale for auditions in a Hulu mini-series about dogs trying to go to medical school. The Flipside interviewed a senior theater major to see how they are preparing.
"It's like acapella auditions all over again, but bloodier," said senior theater major Lachlan Fisher, who is shadowboxing in the Willard gym.
"Most people start kickboxing during winter break, but I've been taking Muay Thai lessons since we got here. My shins feel like hell, but I put the pain into my acting. It's the Method."
The Flipside reached out to Fisher's kickboxing coach, Roy Rafson, for comment.
"I met him at a CTA station, and he asked me if I fight. I work at CVS, but I told him I still get US Army Draft emails, and that was enough for him. I don't know what he's getting from this. He's paying $150 an hour just to get knocked out, and every time he goes down he expects me to give him a speech or something. Usually by then I have to clock in, and he cashapps me once I leave."
Fisher let Flipside into his personal strategy. "Right now my fighting style is a mix of Connor McGregor and Lin-Manuel Miranda. I've been watching Creed and the Mortal Kombat movie for more inspiration, but right now I think I could take on the wrestling team."
The Flipside tried to reach out to Dean Johnson for comment and received a blood-stained playbill of Romeo and Juliet in response.