'You Matter,' says President Schapiro as he Snarfs Down Hotdog Number Three of Welcome Back Speech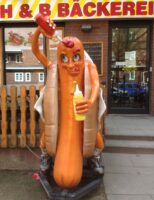 Northwestern University President Morton Schapiro welcomed sophomores back to campus with a hearty snack, reiterating that every student matters.
Schapiro, squinting at a set of red-and-yellow-splotched notecards, said he wants the sophomores to mustard – er, muster – the "togetherness," hoping they engage in the Wildcat Welcome Back activities with relish.
"Our team has worked very hard on today's lunch menu and we hope it will help to foster a brighter, more vibrant community," he said, while reaching into his coat pocket for a hotdog.
When asked about the Wildcat Welcome Back calendar, Schapiro answered, "Look, why is it even called a hotdog? There is no dog in it. It's hot for sure, but so are a lot of things. You don't go around calling a wet steamy shower a showerdog. Just doesn't make sense."
After a decade of leading the University, Schapiro is transitioning out of the role this coming spring. His departure is expected to kick off a sharp decline of condiment sales in Evanston.
"It's sad to see such a great time come to an end. I will never forget the relationships that I learned while leading this University," Schapiro said. "But let's be for real, those fuckers are good. Hot, cold, dry, or moist. I'd down another one right now. Yeah baby!" he added.
Schapiro plans to teach his final class this semester as a button on his tenure at Northwestern: "Contemporary Perspectives on Snarfing Down That Diggity Dog."