Awoooooooooga! Morty steps out in some tight pants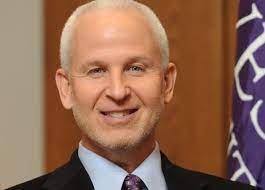 Peepers were peeled and jaws were dropped last week after the president of Northwestern University, and world-renowned babe, Morton Shapiro was spotted on the streets of Evanston wearing a pair of very fashionable and extremely tailored pants.
Those sauntering past the Sherman Avenue CVS were unprepared for the image of Shapiro stepping out of that double trouble store/pharmacy with his hands nonchalantly nestled in the pockets of some seriously stylish slacks. The pants reportedly resembled those worn by actors who played male models in Zoolander (2001), only in this case the pants were purple and originated from Ralph Lauren's clearance section (2013).
"I never thought I would ever have the urge to call Morty a dame," said Michael "But there I was, holding my eyeballs in their sockets so they wouldn't pop out like a Looney Tunes horndog."
One graduate student even crashed his car into the T-Mobile upon seeing Shapiro's curvature outlined in corduroy. "They always say not to be distracted by your phone, but they never told me what to do if I saw the head of my school looking like an absolute dollface."
Since the sighting, some Northwestern students have been unsuccessfully scouring the Internet for lookalike pants in order to replicate Shapiro's physical appeal, driving the most desperate to fashion their own out of excessively strained Spanx. Others are reconsidering their previous distaste for the university's president, even going so far as to tweet out requests for "#MortyinShortys".