Former Willie The Wildcat Student Mascot Reflects On Days In The Fur: 'The Tail Plug Always Started To Chafe By Halftime'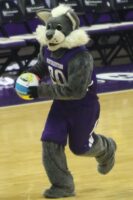 In a heartfelt speech at the annual Willie The Wildcat mascot program alumni dinner last night, renowned former mascot Albert "Fearsome Furman" Nal almost shed a tear recalling the costume's most involved element—a flared anal plug ending in Willie's long, majestic grey tail.
"I'd heard the costume was really involved, but when they told me how the tail was attached, I thought it was just hazing," Nal said, cupping his rear protectively as if by instinct. "By senior year, I didn't even think about it. The only issue was the tail plug always started to chafe by halftime."
Nal was part of the fourth class to make the strategic replacement to the tail plug after Big 10 Network staff claimed Willie's field presence was becoming too limp.
Nal's favorite part of the job was meeting adoring fans, he said. Though he had to lean against walls strategically in case any meddling preteens got any ideas about pulling, he did think the bond between him and his tail made touchdown dances far more dynamic, and far more pleasurable.
"Turns out a Wildcat win can bring extreme pleasure in more ways than one," Nal reflected.
At the conclusion of his speech, Nal—now the proud founder-CEO of his own combination athletic talent agency and sex therapy office—hinted at an upcoming donation to the university to introduce a vibrating element to the outfits of mascots in the class of 2026 and beyond.
"This program changed all of our lives, so we should all do what we can to keep future mascots screaming," Nal said.