New Era? Ye (Formerly Kanye) Shortens Name to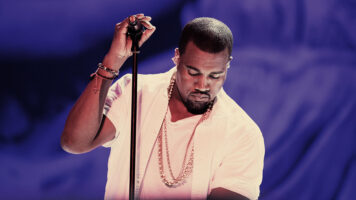 In response to a midlife crisis brought on by his divorce from Kim Kardashian, rapper Ye West (formerly known as Kanye) has changed his name again to . A source who wished to remain anonymous said it's pronounced like "mysterious gregorian chanting."
To promote the name change, West's team rented out hospitals across the country and filled the maternity wards with banners displaying the new name. "It's about rebirth," publicist Pub McRelations said. " really wanted to represent that by spending an obscene quantity of money to use entirely necessary resources for something ridiculous in the midst of a global pandemic."
While McRelations claims is looking for rebirth, West's actions say otherwise. recently bought a house across the street from ex-wife Kim Kardashian, and he was reportedly seen standing outside her window holding up a boombox and crying.
"Like, go home already," Kardashian said in an interview. "I got famous from having sex, so it's only fair I help Pete do the same. I'm not going back to Kanye, and I'm definitely not calling him that stupid shit."
Kardashian's comment is in reference to her latest relationship with comedian Pete Davidson, whom audiences consider to be a modern 70s artistic muse. Scientists speculate the newfound relationship may have triggered West's midlife crisis.
"It's not a phase," said West. " is the real me. It's definitely not about getting Kim's attention so she'll dump that human equivalent of three New York rats in a trench coat."