Will Smith Announces It Was ACTUALLY the Gemini Man Who Slapped Chris Rock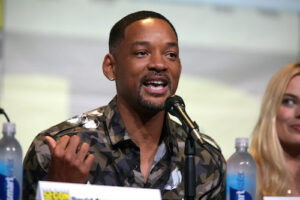 At the Oscars, Will Smith appeared to strike Chris Rock across his cheek after the comedian made a joke about Smith's wife Jada Pinkett Smith. However, immediately after the awards ceremony, Will Smith held a press conference on the red carpet where he announced that the real culprit of the attack was none other than the titular character of hit 2019 film "Gemini Man" — a CGI recreation of a young Will Smith.
"That Gemini Man's been after my skin ever since we finished filming, but I never would have thought he'd hit Chris Rock while I was practicing my acceptance speech in the bathroom mirror," Smith said. "Even on set, we had to do our scenes together in separate rooms after I refused to start calling him 'the actual Will Smith' like he wanted."
The Gemini Man is the brainchild of superstar director Ang Lee. Lee is best known for his Big Strong Man-Lover trilogy, composed of "Sense and Sensibility" (1995), "Hulk" (2003) and "Brokeback Mountain" (2005). His work has been praised by the likes of Metacritic user Jiveguy, who said the CGI in "Gemini Man" was "Really good."
Police have been working overtime to locate the digital recreation of Smith and bring him to justice. So far, there have been no sightings of the computer-generated man. However, Lee has been taken into custody for questioning.
UPDATE: The police have informed the media that the man they took in for questioning was actually a CGI recreation of Lee. They have announced a warrant for the arrest of the Gemini Man and Lee. The public is to remain wary. No one is safe. Anyone could be CGI.