DJ Moondog Sued By Estate of Famed Canine Cosmonaut Laika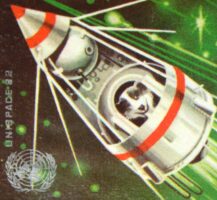 Notorious campus DJ Tyler Felson, better known as DJ Moondog, has been sued by the estate of martyred doggy cosmonaut Laika for making light of the perils of Cold War-era canine space travel.
"If he were a little bit better at spinning sick tunes, perhaps we would be flattered by the mimicry. Maybe we even would have named him official bard of the Laika branding world," said estate representatives. "As it stands, Moondog's face is a disgrace to the entire space race."
The representatives added that they were "particularly miffed" by a recent Moondog set in which the tasteless tunester remixed 'Fly Me To The Moon' by Frank Sinatra with Okkervil River's 'Dead Dog Song.'
Moondog supporters have worked to contest the claim pending the DJ's extradition to Russia for trial. They cite the 'searing heat' which Moondog brings to basement parties and bar nights all over Evanston, claiming it pays appropriate tribute to the 90-degree internal space station environment which felled poor Laika just minutes into her 1957 flight on Sputnik 2.
Like Laika, Moondog fans often feel "sent into zero gravity" on the heels of the DJ's perfect bass drops, one fan noted.
If sentenced, the estate has said that Moondog will be conscripted to an upcoming flight within the experimental branch of the current cosmonaut program, or "possibly" just sent to remedial music classes.