Congress Decides to Choose Speaker of the House Based on Twitter Poll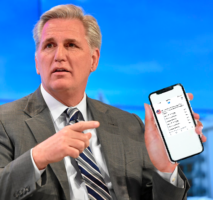 House Republicans and Democrats agreed for the first time ever Thursday night that the next round of voting for Speaker of the House would be conducted over a Twitter Poll.
The idea originated from Elon Musk, whose December 18th poll begged the question of whether he should retain his role as CEO of Twitter. Though the poll concluded he should step down, Musk continues to hold the position, which seemed not to concern anyone about the future of this week's poll.
Republican Kevin McCarthy is a large proponent of this method. "If I couldn't get enough votes from far-right extremists in Congress, there's only one other logical place to find them!" he said, smirking so smugly that fifteen Democrats gagged in disgust.
Former Speaker Nancy Pelosi expressed concern over this strategy of selection. "I'm just worried that if a Democrat wins, Republicans will throw another tantrum," she remarked, trying to frantically re-download the app, but instead downloading Grindr. After hearing this statement, Congresswoman Lauren Boebert threw herself on the House Floor and began kicking and screaming.
"It was my idea!" shouted a lonely George Santos from the back of the room, expecting people to still believe him after the shit he's pulled. He touted, "I already have 51% of the vote." George Santos is not on the ballot.
The candidates up for the coveted spot include McCarthy, Democrat Hakeem Jeffries, and Donald Trump, nominated by Matt Gaetz due to their shared morals.
Shortly following the announcement, Marjorie Taylor Greene released a statement, proclaiming to all that McCarthy is sure to usher in a new era and a new -ism.