Daily Northwestern To Start Hiring Quality Checkers For Op-Eds: "Whoops. We Forgot"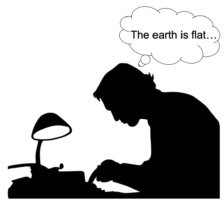 Northwestern University's official student-run newspaper, The Daily Northwestern, recently issued a statement addressing the fact that the publication had apparently not been employing quality checkers for their opposite editorial pieces, or "op-eds."
The statement claimed that the editors of the paper had experienced a "severe lapse in judgment" and that they were "listening and learning" from their "oopsie-daisy uh-oh spaghettio 😢" (emoji included in the statement).
"In our defense," read the statement, "we fully thought we did have a quality checker, Bryson, but turns out he graduated class of '17 and we just forgot to take him off the payroll. Our bad on that one."
This statement has followed a recent rise in student outcry over op-ed pieces that many readers have deemed "unfit" to be on the site.
"wow. the daily will just publish anything! remind me again why i didnt go into journalism if THIS can get published?" read a tweet by Northwestern student @sitonmyfaceoscarisaac.
However, some op-ed writers think that student readers are being too harsh in critiquing their work. "Really, what it comes down to is free speech. I want to provide an alternative opinion to what might be the dominant voice on campus. I guess people are just unwilling to think critically and question their opinions," stated Jackson Smyth, author of op-eds Why We Should Spit On The Poor and Why Liberal Brainwashing Made My Girlfriend Leave Me.