"This Is My Dream School It's Sooo Beautiful Here," Class Of '27 Commit Posts On Snapchat After Taking Picture Of A Particularly Nice Path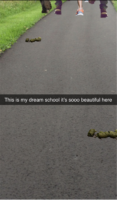 As Northwestern prepares to welcome its next class of Wildcats in the fall, some class of 2027 students have begun posting their commitments on social media. While some have posted photos in Northwestern sweatshirts, or posed near the arch, others have opted to express their unbridled excitement in a different way.
"This is my dream school it's sooo beautiful here," incoming Weinberg freshman Meadow Deering posted to her Snapchat, accompanied by a photo of a particularly nice path next to Norris.
Deering's photo did not capture the lakefill or any Northwestern buildings, just the path. The path was lined with goose poop, as well as noticeable cracks and bumps. Additionally, the feet of a couple students could be seen, and it looked like they were walking across in a line, taking up the whole path (and a bit of the grass next to the path, for the one friend who clearly no one liked). Nonetheless, Deering clearly saw true beauty in that path.
Northwestern prides itself on drawing students for a wide variety of reasons. On their website, they flaunt their classes, their professors, their campus, and their athletics. Now, rumor is they are adding a whole new section to the website, devoted entirely to the various paths of Northwestern. From the famous path in front of Kresge to the unofficial dirt path between the bushes near Bobb, the choices for campus traversal at Northwestern are endless.
Comment your favorite path below!