"I Pivoted": The Moment Offset's Dillo DJ Realized Northwestern Was A PWI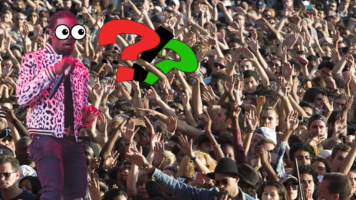 As beloved as Dillo Day is, it always presents challenges to its participants. Some Northwestern students encounter dehydration, borg separation anxiety, and extreme confusion at the fact that their university finally seems fun. However, the DJ for Offset, this year's headliner, faced his own unique battle: learning that Northwestern is a PWI (Predominantly White Institution).
The realization came to the DJ after attempting to play several songs by Latinx artists. When "Gasolina" by Daddy Yankee resulted not in a dance party but confused looks and several yells of "get a load of this guy!" he realized his mistake.
"These songs are always instant crowd-pleasers. But not here. Not in this sea of Jacks and Prestons and Lindsays. So I pivoted," said the DJ after his set.
To save the day, he turned to one of his playlists titled "Tighty Whities," a term he created to describe songs that white people, who still use the word "tight," think are "tight."
"I knew what I had to do. I started playing 'Party in the USA' and suddenly the crowd was alive again. I was relieved, but also horrified. 'What have you done?' I asked myself. 'What have you done?'"
The fact that Northwestern University has a majority white student body did not stop concert attendees from singing along to the words of Offset's lyrics. These include and are limited to the words "bad and boujee" from "Bad and Boujee," "stir-fry" from "Stir-Fry," and definitely not any other particular word that no white person should ever say, no matter how drunk they may be.