Ambitious Theatre Major To Put On Unabomber Musical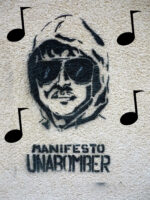 Local Northwestern student Cecilia "C" Foor continues in a grand theatre major tradition of biting off more than she can chew with her original musical based on the Unabomber attacks.
The project, tentatively titled "Blow Me," will be a jukebox musical that covers the true story of Ted Kaczynski sending two homemade bombs to Northwestern University in 1978 and 1979. The track list is currently slated to feature many hit songs, including "Boom Clap" by Charli XCX, "TNT" by AC/DC, and "I'm a Creep" by Radiohead.
There will also be one original song called "Little Oppenheimer" that will be performed by a Northwestern a capella group and somehow still won't be the worst thing a Northwestern a capella group has ever sung.
Other university groups will also be pitching in to make the musical come to life. SESP students in the arts and crafts seminar are expected to make the set decorations, and several frats have already provided new pledges as extras for the explosion scenes. The bomb props will be made from the human waste of students who currently eat in Sargent Dining Hall.
The inspiration for the musical came to Foor after listening to her roommate, a big brain pre-med chemical-engineering-neuroscience major, complain about the workload of her classes and her hatred for the Technological Institute building. "She told me that she wishes she never had to step foot into that 'human hamster maze of a structure'," Foor said. "It struck me then that this is probably exactly how the Unabomber felt. He did what every STEM student always wanted to do but never had the courage to."
"Blow Me" will premiere in summer 2024 in front of Bobb-McCulloch Hall, which has been scheduled for demolition for the last ten years.