Ask Flippy: What Do I Do If I Suspect My Roommate Is My Evil Shadow Self?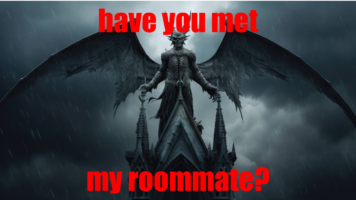 Dear Flippy,
So far freshman year has been going great! I've just found myself with some recent…roommate issues. At first I thought it was a little weird that we had the same name and also the same face (and also the same social security number?), but I figured it was just alittle joke from those goofy guys and gals at residential services.
But since move-in, things have gotten weirder. I wake up in the middle of the night to find my roommate standing at the foot of my bed with glowing red eyes and a sickening little grin. When I come into the room after classes, he's just chanting. He says it's part of his Latin homework, but I don't think "let the lieges of the shadow realm rise and kill my roommate and alternate dimensional self Michael from outside of Cincinnati" is Latin. The other night I found that he had painted my wall with dark red symbols. Also, he keeps leaving open food containers in the room (even though in the roommate agreement we said we would keep food sealed or else the rats will come and I don't want rats).
I'm in fear for my life. My roommate has begun stealing all my family photos, scratching out my face and replacing it with crayon drawings of himself. Flippy, what should I do if I suspect my roommate is the evil shadow version of myself?
Thanks,
Scared in Shepard
Dear Scared,
You should probably contact residential services to ask for a room reassignment, I'm sure they will be very quick and prompt with that. If not, the shadow people come for us all, it's just a matter of when my naive little friend.
Best of luck,
Flippy