Student Sentiment Divided Over New College Sweatshirt Ban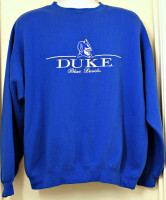 EVANSTON — Northwestern students and faculty received an emergency campus alert Tuesday from President Schapiro that stated, "As of November 1, 2012, students will no longer be permitted to wear college sweatshirts or any other apparel that displays the name of any school in the top 50 of US News & World Report's annual college rankings, excluding Northwestern."
General student sentiment indicates a clear divide between former early decision and regular decision applicants. "ZOMG, Morty is actually a god. Like, finally these losers will have to show some school spirit. Legit, you're a senior, get over the fact that you didn't get into Brown," commented early decision applicant Carolyn Lanza.
Legacy and early decision applicant Vincent Bennett added, "I actually saw somebody wearing a Wash U vest to a pregame last weekend. First of all, who the hell wears vests anymore, and second, the school is in St. Louis. Why does everybody love that school? My dad owns some companies there and let me tell you, Missouri's hobo population makes E-town's hobos look like kittens."
McCormick junior Jenna Kulback said, "Honestly, I only wear my Duke hoodie every day because it keeps me warmer than my Northwestern one. I told everyone in my high school for years that I was going to Duke, but when I didn't get in and only got in here I was TOTALLY fine with it."
Kulback applied regular decision to Northwestern on December 31, after receiving her rejection from Duke. Duke, in addition to her rejection letter, also returned the four dozen cupcakes Kulback had sent their admissions office. She proceeded to insist that she was crying because she was just really happy for her friend who was admitted to Duke three years ago.
Other former regular decision applicants took to social media websites to express their outrage. At press time, a "Wearing my Yale sweatshirt is a fundamental student right" petition had received over 4,000 virtual signatures. Ryan Dobbs, the Communications freshman who drafted the petition, assured The Flipside, "My girlfriend goes to Yale, so I just wear it to support her. I didn't really want to go there in the first place. Those two weeks I refused to leave my room last April were totally unrelated to getting waitlisted."