Daily Northwestern Reporter Fails to Write Football Article, Enters Catatonic State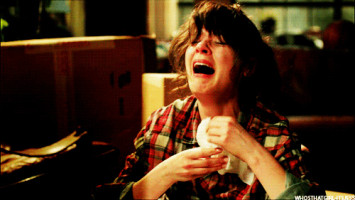 EVANSTON — Daily Northwestern reporter Amanda Olsen was scheduled to write an article about Saturday's football game against Minnesota, but failed to complete her assignment, citing that she "could not see [her] computer screen through [her] tears" in an email to her superiors. Olsen's roommates report that Olsen has locked herself in her room, and has refused to come out until "Fitz gets his shit together."
Olsen started writing her article during the first quarter of Saturday's game, predicting a much needed win for the 'Cats. However, when the Gophers began to score, the article, along with Olsen's mental state, took a turn for the worse. Close friends witnessed Olsen banging on her keyboard furiously, shouting various slurs against Minnesotans and gophers.
Grace Kaplan, Medill junior, watched the game with Olsen and witnessed her mental breakdown, recalling, "At one point, she was convinced that if she wrote her article about Northwestern winning, the refs would have to place the game under official review."
Kaplan spent the entirety of Saturday and Sunday trying to nurse her roommate back to health. As of press time, Olsen has emerged from a blanket cocoon and begun communicating via meows and broken sobs.
The Daily's forensic technicians have recovered excerpts of Olsen's unfinished article, and have graciously allowed The Flipside to reproduce them in their entirety below:
"Following two devastating losses to "THE Team that Shall Not Be Named" and our frosty neighbors to the north, the Northwestern Wildcats were hungry for a win today. The 'Cats had been looking forward to the match-up after a week of productive prac
no. NO. STOP. asdfklkjsdfuuuu, goddamnfuchhhhhedkkeee
After a successful win by the 'Cats this Saturday, during a game we most certainly did not lose, Northwestern has moved to the top of the AP and USA Today polls, and is officially the greatest team in the nation. Players cited their impenetrable defense, lightning speed, and countless blessings from baby Jesus as key factors in their indisputable, definitely real win against Minnesota. WE WON, DO YOU HEAR ME, LEE CORSO?!? WEEEE WON"
While Olsen's condition remains uncertain, her physician recommends a win against Iowa as the most effective recovery strategy.