Northwestern University Wins Hearts and Minds of Illinois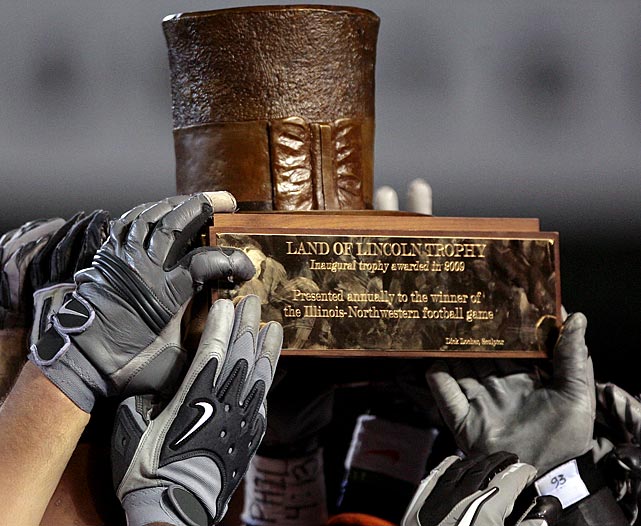 ILLINOIS — All across the great Prairie State, the hearts of the noble people of Illinois are bursting with pride for the Northwestern Wildcats after their second consecutive besting of the University of Illinois Fighting Illini for the coveted Land of Lincoln Trophy.
"Aye," said Abraham O'Leary, a Springfield lawyer, as he shoveled snow from his driveway. "We're a hardy folk, good and honest, and we know good football when we see it. I'm proud of all of the boys who were on that field today, and I rest easy knowing that the Land of Lincoln Trophy is in good hands. It warms my heart, even as I brace for a bone-chilling, soul-crushing winter in our nation's heartland."
"The annual game between Northwestern University and the University of Illinois is one of the greatest traditions in the whole state," said Emma Martinez, Emeritus Professor of Illinois Studies at the University of Notre Dame. "Illinoisans have been known to drive their tractors or even walk down I-57 to Champaign or Evanston to observe the games. For many non-Chicagoans, the pilgrimage is the farthest they ever travel from their hometowns."
Illinois Governor Pat Quinn, an alumnus of Northwestern University's Law School, made a grandfatherly visit to the Northwestern locker room after the game and patted each player on the back while telling him that he was very proud of all his success. The governor then went to the Illini locker room, advising them to keep their chins up and be thankful for all the glorious bounty of their great state. A confidential, in-locker room source reported that Wildcat Head Coach Pat Fitzgerald also stopped by the Illini locker room to give his counterpart Tim Beckman a noogie, saying, "Better luck next year, squirt."
Former Illinois residents such as Kanye West, John Ashcroft, and Barack Obama who had all intently watched the game immediately sent their congratulations to Fitzgerald and the Northwestern Wildcats. Each expressed fond hopes that the Wildcats would carry high the banner of Illinois honor in the coming year or at least make a solid effort at having a winning season.