[Denial Issue] NU Sports: A Year in Review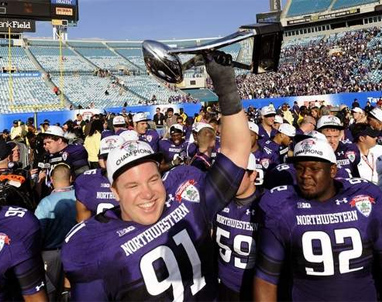 By Joey Hart, Trevor Siemian's Biggest Fan
When I came to Northwestern I couldn't wait to watch sports! From the second I stepped onto campus in the fall, I knew it was DEFINITELY going to be our year. And the football team definitely almost didn't disappoint! There were all those times where we came really close to winning! We would dominate for a long time but for some reason, we just couldn't keep it rolling through the fourth quarter. Oh well, who cares about those last minute touchdowns anyways?
My favorite part was when we'd all shake our keys at the players. It's so funny that we thought that would distract the kicker! I was heartbroken when we were robbed of a chance at a bowl game (I thought being such a big contender in the Big 10 would at least get us SOMETHING) but at least we won the Land of Lincoln trophy!
Then it came time for basketball! Nothing says college sports and campus-wide school spirit like legendary Welsh-Ryan Arena. The state-of-the-art facilities are just spectacular and draw top basketball talent from across the country.
No wonder our season is going so well! I'm guessing with about one more win we'll make it to the March Madness tournament. It's our time! Year after year we get SO CLOSE but it's never enough. I think it's because the other teams are jealous of how smart we are. All the other teams in the Big Ten know we could be Ivy League so they feel dumb!
You'd never guess how nerdy we are from our student section though. It was CRAZY tonight. I mean, it always is! We Wildcats are so good at cheering. It's nice of Wildside to reward us with those t-shirts, but I don't even care about that! It's about getting hundreds of students together to get wild for our sports teams!!
I'm so glad I came to a school with so much athletic spirit. My other choice was Ohio State and I don't think I could handle that rigorous career-focused curriculum. That's why Northwestern is perfect! We have the perfect balance of sports and academics. Go! U Northwestern!