Man Who Doesn't Follow Football Fails to Create Accurate Mock Draft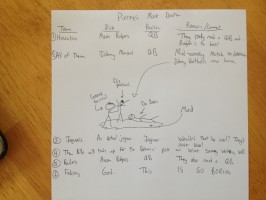 BATON ROUGE, LA — Pierre Walters failed to guess any of this year's NFL draft picks correctly despite in-depth analysis of each team's greatest positions of need.
"I had the Houston Texans drafting Aaron Rodgers with the number one pick," said the New Orleans Saints fan, speaking from a nearby bandwagon, "since they really need a quarterback. I hear Rodgers is really good."
As for polarizing prospect Johnny Manziel, Walters predicted that there would be such contention over which team he would belong to that NFL Commissioner Roger Goodell would institute a special mud-wrestling match to determine his new team. This was illustrated in graphic detail in Pierre's mock draft, with the Panthers and Bears falling to the strength of the Saints.
Walters has been an avid football fan for "about four or five months now, I guess," and has not seen a college football game in his life. When his workplace (Pelican Pastries of Baton Rouge) began a mock draft pool, Walters felt obligated to participate.
"The prize is a month's supply of free beignets!" said Walters.
Walters predicted that the Jaguars would draft an actual jaguar with the third overall pick. "I don't think there's a rule football players need to be human. The Jaguars will never lose again with this pick!"
With the fourth overall pick, Walters predicted that the Bills will trade up for the Browns' pick and select wide receiver Sammy Watkins. "I just wrote random words for that one," laughed Walters. The Raiders, then, would select Aaron Rodgers—"which would really bum the Texans out," admitted Walters—while the Falcons, according to Pierre's mock draft submission would pick "God. This is so boring."
Although Walter did not win the mock draft competition, he said he is looking forward to months of "getting unnecessarily worked up with [his] coworkers about the terrible decisions Saints management made and letting the world know that [they] would have done a much better job drafting players."