Five-Star Engineering Recruit Verbally Commits to McCormick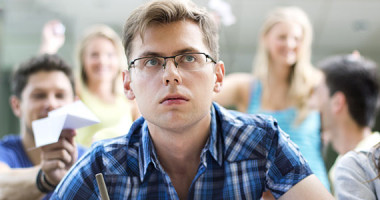 Five-star engineering recruit Matt Conforto, a senior at the Illinois Math and Science Academy, has verbally committed to the McCormick School of Engineering at Northwestern.
"I'm really excited to have the opportunity to lead an up-and-coming program," Conforto said at his introductory press conference. The differential equations specialist stands at 5 foot 6, weighing 130 pounds, and benched 40 pounds in high school gym class once.
Conforto grabbed the attention of recruiters with his domination of high school math and science competitions across the country, ranking nationally in competitions including computer programming, linear algebra, and organic chemistry.
Heavily recruited by MIT, Stanford, and Berkeley, Conforto's choice of Northwestern gives their engineering program a bright future. "We're extremely pleased to hear Matt's choice and can't wait to get him set up in one of our labs," Dean of McCormick Julio M. Ottino said. "When our recruiters first saw how he integrates those polynomials, we knew right away he was something special, a truly one-of-a-kind talent."
Conforto has not been free from out-of-the-classroom controversy, however. Some of his former high school mathletes allege he once tried a sip of beer at a party. Conforto's lawyer maintains that he was only trying to impress his cool older cousin. "I'm not here to talk about the past. I'm just happy to move forward with my life and help make Northwestern engineering the top program in the country," he said.
Northwestern football coach Pat Fitzgerald was also pleased to hear the news. "If the kid can play quarterback, linebacker, running back, wide receiver, tight end, fullback, cornerback, defensive tackle, offensive tackle, kicker, or punter, we'd love to have him on the football team too!"