Trump Star Smashed Like Trump Smashes Pussy: Without Consent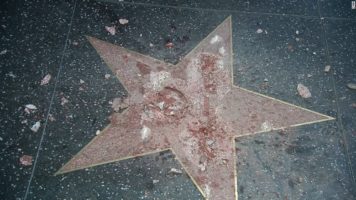 In a somehow unexpected turn of events, Republican presidential nominee Donald Trump's star on the Hollywood Walk of Fame has been, according to onlookers, "busted all to hell." Reports flooded in early Wednesday morning that Trump's star had been violently smashed with a sledgehammer, much like how his continued existence decimates the dreams of the American people hoping his campaign is just one elaborate prank.
Many have noticed a connection between how the star was smashed and how Trump continues to brag about "smashin' that pussy." Twelve women have now come forward claiming they were sexually assaulted by Mr. Trump, and as the numbers grow, more and more Americans are becoming convinced that these were less consensual acts on Mr. Trump's part than they were an unasked-for hammering.
In a candid interview on Fox News, Melania Trump defended her husband as she offered her sympathies to the alleged victims. She even gave her best advice to stop his sexual advances: "Marry him."
While a man has come forward to claim responsibility for the vandalism of the Hollywood star, the other culprit is still at large, making unwanted advances on the highest office in our democracy. After all, the shape and size of the indent in the concrete does resemble the large orange dick that has continued to be shoved down the throats of the American people.