Pat Fitzgerald: Honestly, I Just Tell the Boys to Go Score Some Points, and Sometimes It Works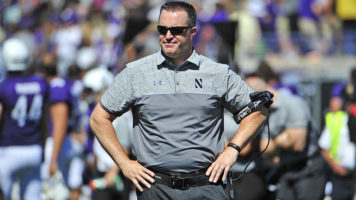 Following victories against Iowa, Michigan State, and Nebraska, Northwestern fooball coach Pat Fitzgerald admitted, "Honestly, I just tell the boys to go score some points, and sometimes it works." This reportedly shocking strategy appears to explain Northwestern's win in last year's Pinstripe Bowl and could result in another Bowl appearance this year.
According to Fitzgerald, the strategy was born when he became the head coach for the university. "It was very simple actually; I needed to find a way to make sure we won games," Fitzgerald said, "and then it hit me, what would happen if we just got some points up on the board, and lo-and-behold, here we are today!"
While Fitzgerald's strategy has seemed questionable to some, members of the football team have proudly defended it. "That's what Coach Fitzgerald always tells us to do, and it works…usually," said star running back Justin Jackson. The Ball Carrier went on to reminisce about other Fitzgerald successes. "Like one time he told me to take the ball and carry it to the other side of the field. That was the day I earned my title as the ball carrier."
Sources report that if Northwestern becomes nationally ranked and moves on to bigger and better bowl games, Fitzgerald will turn toward developing a better strategy. At time of press, Fitzgerald himself speculated that the new strategy could seek for Northwestern to get more points than the opposing team.