Man Preps For Interview By Dousing Himself In 16 Different Colognes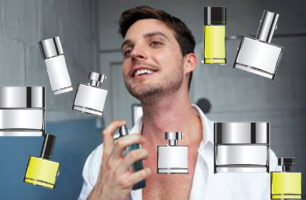 In what many Kellogg students are calling "the most aggressive power move of 2017", Kellogg student Jon Dovanni reportedly doused himself in 16 different types of cologne in preparation for an interview.
"They need to know that I have what it takes to be the next greatest waiter at this specific Chili's restaurant," Dovanni said. "It's been a tough road to even getting an interview, so I'm not gonna mess around."
Dovanni said that the 16 colognes are the second phase of the foolproof three-phase plan he devised when he was a high schooler.
"I had to create a system, a system like none other, just to guarantee that I would never face failure in any interview in my entire life. Now, what exactly are those three tremendous steps, you may ask? Step 1? Education. Step 2? Cologne overdose. Step 3? Employment."
According to Dovanni's parents, there has been little evidence of any sort of success with their son's methodology.
"This fuck hasn't held a job since he was working the lemonade stand on the street corner at the age of 10," said Jon's continuously disappointed mother. "I just don't understand why he can't just prepare for the interview, dress nicely, put on much less cologne, and hope for the best."
Eyewitness sources report that Dovanni's cologne concoctions vary from stereotypical "Polo" to his original brew of liquefied Flamin' Hot Cheetos lightly squirted onto the body, often augmented with the scent of uncooked steak.
"The key to success in any situation, as I've found during my time as a student at the world-renowned Kellogg School of Business, is to make sure you diversify, diversify, diversify!" said Dovanni, "Not everyone's nose tingles to the same scents. I'm all about that inclusivity, yo!"