Morty Nervous to Bring U.S. News Ranking Home to Meet Family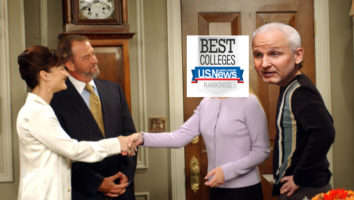 Speaking to reporters before going home for the Thanksgiving holiday, Northwestern University President Morton Schapiro expressed anxiety about bringing his new U.S. News & World Report ranking home to meet his family for the first time.
"This time of year, my family always bothers me about finding a nice, elite U.S. News national university ranking. Aunt Marcy says a top five ranking would be just silly to reject a president as handsome and as good at fundraising as me. Hopefully they can appreciate eleventh place for its lovable imperfections," Schapiro said.
The eleventh place ranking expressed cautious optimism about its imminent Thanksgiving encounter with the Schapiro family. "Do I sometimes get jealous of other rankings and their hot Ivy League partners? Sure. But Morty is my man, and I think Northwestern University is a great school to be with," the ranking said.
According to several sources, Uncle Larry plans to point out that the eleventh place ranking also appears to be with Dartmouth and Johns Hopkins on the side.