Area Mom Excited To Meet Daughter's Sugar Daddy This Christmas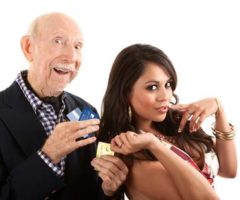 With finals drawing to a close, another arduous task emerges for college students heading home: bringing your significant other home for Christmas. However, for area mother of four, lover of Christ Brenda Clark, this holiday season is made immeasurable more jolly by the prospect of her finally meeting her daughter's sugar daddy, Bernard.
According to Brenda, the pair met after her daughter, Kimberly, SESP '20, posted a profile on a popular sugar daddy website. The profile, still online, indicates that Kimberly's requirements were a Civil War enthusiast, a salary over 800K, older than 65, and that he drive "a Tesla, G-Wagon, or that we only call Uber Blacks." She also included a photo of her feet, for reference.
"I'm just so proud of my Kimberly. Everyone knows Evanston is a prime location for young girls seeking rich men. It's one of the things we loved about it when we toured," Brenda gushed. "I'm so excited to meet him. I've already installed the wheelchair ramp out front and gotten out the blender to liquefy his supper. Kimberly sent very strict instructions."
Kimberly herself couldn't be happier. "I'm so glad I came to Northwestern—these are the kinds of opportunities only a top-tier university could offer," she said, examining her new Cartier diamond watch. "I keep 'accidentally' spilling his Viagra down the drain, so that should buy me enough time until Christmas. Also, there's a history of early onset Alzheimer's in his family, so maybe he'll start forgetting he's already given me my weekly allowance. Bernard truly is the love of my life."

The pair will reportedly be spending the holidays in Turks and Caicos, where Bernard will read the latest Bill O'Reilly biography and Kimberly will spend a suspicious amount of time with the cabana boy.