Morty Shuts Down All Frats after Not Receiving Any Bids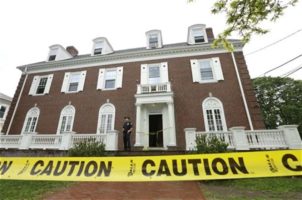 Greek life at Northwestern was dealt an unprecedented blow Friday morning when President Morton "Morty" Schapiro signed an executive order immediately disbanding all fraternity chapters on campus in retaliation to not receiving a single fraternity bid during a devastating Rush Week.
Sources from the president's office have said that Morty was really looking forward to rushing. "Fall quarter was a big transition period for Morty," said Diana Trevor, assistant to the president. "With over 2000 new freshman and transfer students arriving on, Morty was really excited to integrate himself with the new students and make some friends, but for whatever reason, he just struggled to form a good social circle. After an entire quarter of lonely nights in his office and not getting invited to any parties, Morty was hoping that one of the frats would accept him and finally let him be 'one of the guys'."
Eyewitnesses at the Tappa Tappa Keg house on Thursday night – the last night bids were given out – reported seeing Morty storm out of the house back towards his office after the final bids were given out and his name wasn't announced. He wasn't heard from again until Friday morning when all the fraternity brothers on campus woke up to find a note from Morty slipped under their doorways, informing them that their respective organizations were shut down and that their houses would be torn down immediately.
"We just barely got out of there before Morty's wrecking ball crew came in and demolished the whole frat quad," said Harold Beard, president of TTK, as he stood in the wreckage. "We had no idea that he would get so upset. I mean, he wasn't at any of the Sunday Night dinners over the fall quarter and during the Rush events, he never talked to any of us. He just kinda stood in the corner and made awkward eye contact. Whenever one of us would go to talk to him, he would just mumble and look at the floor. I never thought it would escalate so much."
When interviewed about the aftermath of his decision, Morty expressed a positive outlook for the future. "Now Northwestern won't have to worry about those mean old frat guys. They won't hurt me anymore," his voice trailing off into a broken whisper. "Besides, the demolition of the frat quad gives me the chance to do some much-needed construction in that area. Maybe I'll add another wing to the Tech Institute. I don't know."
"I'm feeling better now after that whole fraternity debacle," he continued. "I'm rushing the sororities now. I'm sure I'll be able to land a bid from one of them. I feel like sisterhood suited me better than that whole frat thing anyway."