NU Sports Rewards App Has Students Walking Past Soccer Field at Record High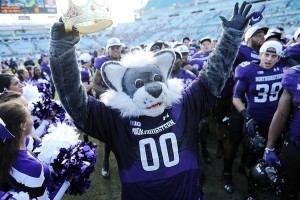 After sports analysts deemed "having more fans" a key strategy to improving the football team, the athletics department announced the creation of a "sports rewards app" to incentivize game attendance for all sports through the primary thing students care about: free stuff. In addition to free admission and free t-shirts at the gates, students can attend games to earn even bigger prizes like a personalized jersey.
Since the app's release, students have nonchalantly strolled past the soccer field en masse. The people handing out free sunglasses at the gates have witnessed the app's success firsthand and report an unimaginably high volume of students taking a break from homework long enough to stand suspiciously close to the field with their phones out before promptly leaving.
McCormick junior Robert Sadowski said, "I walk by the soccer field all the time now. I already finessed 1,000 points, and I'm also learning so much about sports. One time I looked at the scoreboard and we were winning, and man, I've never felt so victorious on the walk back to my dorm. Purple pride really flows through me. I'm a real sports fan now."
As the app gains popularity, officials hope students will be inspired by their personalized jerseys and may one day wear them as they sit through an entire game.