Jeff Sessions Recalled to Santa's Workshop Unexpectedly Early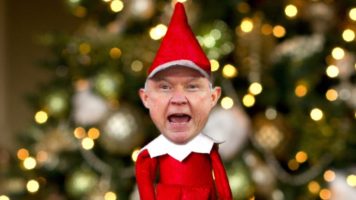 In a surprise move, the White House announced Wednesday that Attorney General Jeff Sessions had resigned to return to his seasonal gig at Santa's workshop.
In a statement read by Press Secretary Sarah Huckabee Sanders, the administration called Session's departure "regrettable but necessary." The statement lamented that the Christmas season is starting "earlier and earlier…like, its not even Thanksgiving but CVS is already playing Michael Bublé tracks on repeat."
Deputy Attorney General Rod Rosenstein spoke Thursday about the personal impact of Sessions' departure. "I know he's moving on to better things," Rosenstein said, through tears. "Santa relies on people like him in the workforce: small, spry, and still strangely okay with slave labor in the 21st century. But it won't be the same in the Justice Department without him. He really brought the perfect blend of 2018-style polarization and 1955-style racism to the Department. I don't know if anyone else can replicate that workplace culture."
"Anyone can roll back protections for minorities, but not everyone can do it like Jeff," Rosenstein added.
Many pundits believe the resignation was related to the ongoing investigation into President Donald Trump's status on the Naughty List. Neither Trump nor Santa could be reached for comment.