Sexually Frustrated Freshman Finally Finds Hookup, Out Of Socks To Put On Door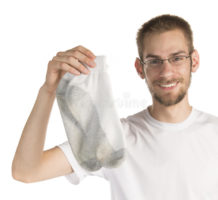 Freshman Jeff Richards (WCAS '23) was thrilled when he found a girl willing to hook up with him at Tappa Tappa Keg's party this past Saturday. But in a cruel twist of fate, it wasn't until Richards got back to his room that he realized he had run out of socks to put on his door while he had "really good sex, which [he is] really good at."
"I have sex a lot. Like all the time. Lots of sex. I know how to do, uh, intercourse,"* Richards informed the Flipside as he hurriedly closed an incognito tab on his phone. "It was just really bad luck this time. I go through socks pretty fast because, uh, I change my socks a lot. It's okay, though. November is coming up soon and I'll try again then, because of No Nut – shit, I mean, because the weather is cooler and my feet will sweat less. So, like, I won't need to change socks all the time," he clarified.
The Flipside was able to secure an interview with the girl involved in the event, who wished to remain anonymous. "It wasn't a big deal. He doesn't have a sock, whatever. And he's obviously inexperienced, but everyone's gotta have a first time, right? I was gonna go through with it," she explained. "But he just wouldn't shut up about how good he was at 'peepee-in-vagina intercourse'. Like, that was literally the only thing he would say to me. So I went home, because at least my vibrator doesn't talk."
At press time, Richards was reportedly seen heading back from Target after buying twelve extra-large boxes of Kleenex tissues for unknown reasons.
*This statement is directly contradicted by multiple Flipside sources.