Pessimistic Student Will Just Occasionally Yell "Safety School" At Visiting Ohio State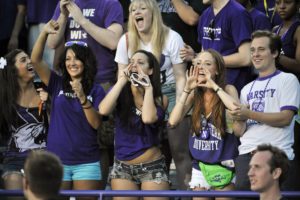 With the mighty Ohio State Buckeyes set to visit Northwestern on Friday evening, many students found themselves pessimistic, and in some cases completely resigned to defeat. But for one Medill sophomore, pessimism wasn't a barrier to doing what she loves: putting down her opponent's intellect.
"I know our odds don't look too great," slurred Northwestern University sophomore Joanna Booth, in line outside of the student entrance at Ryan Field. "But there's always a solution that makes us look really, really good." She added, "and strong." Booth drunkenly yelled "safety school" at Ohio State players each time they did something good.
"I don't give a rat's ass about their quarterback. Even if he wins all he has to look forward to Monday morning is a 2.50 GPA. That goes for all of their students." Booth went on: "Manager at Wendy's lookin'-ass."
Attempting to imitate her conception of a prospective Ohio State undergraduate student, Booth waved her hands and made a face. "'I can't wait to take my formidable intellectual talents to The Ohio State University, where I plan to major in something useless, and then get lost in a sea of fifty thousand other dummy dumb dumbs,'" Booth said. "Imagine not being smart and rich like me."
Looking satisfied with her impression, she stumbled off into a pole.