Ever Given Leaves Suez Canal Swiftly After Northwestern Theater Majors Appeared on The Scene to Perform Avant-Garde Scene Study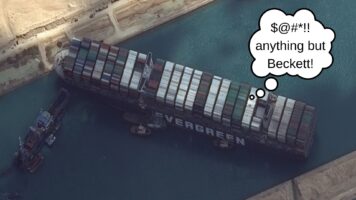 The Ever Given container ship has recently been dislodged from the Suez Canal, thanks to a group of Northwestern theater students (whose request to be referred to with the "proper" spelling of "theatre" was denied) staged an avant-garde show. The blockage presented a once-in-a-lifetime opportunity: an audience that physically could not leave.
The ship had been lodged in the Suez Canal for six days upon the arrival of the Northwestern students. After an initial confusion as to what ten college-aged kids were doing with a set of speakers, a few curtains, and a shower rod on the shore, the crew of the Ever Given realized what was about to begin. A collective groan was heard echoing along the canal. Some sources say that one crew member jumped overboard.
The majors had been hard at work drinking peppermint schnapps and having panic attacks in preparation for the event. "I've never been more supportive of [REDACTED] than I was leading up to that scene study," said one performer's roommate. "I mean, the chance to have the room all to myself was incredible! I could go to bed before 11, and I didn't have the sound of [REDACTED] screeching Dear Evan Hansen to aggravate my tinnitus!"
The performance itself went down quickly and painfully. Before they could finish saying "student-written scenes based off the works of Samuel Beckett," the Ever Given had freed itself and was well on its way out of the canal. Said the captain of the ship, "It just goes to show you, there's no stronger desire than to leave a student theater showcase."