"They Cut Me Out, And Now It's Time To Pay," Cackles A Third Johnson In New Blackmail Video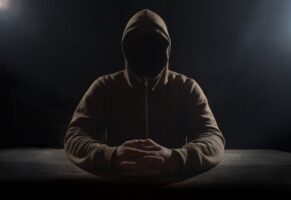 A mysterious blackmail video simultaneously took over every screen in the United States the other day as a third Johnson declared revenge on his near-lifelong nemeses at floundering company Johnson & Johnson.
The third Johnson, or "J-Dawg3" as his Zoom name read, appeared masked and spoke with a voice distorter in front of a black background to detail his involvement in the blood clot issues plaguing the Johnson & Johnson coronavirus vaccine.
"The year was 1886 in New Brunswick, New Jersey," J-Dawg3 began the video. He, Johnson, and Johnson set out to make the greatest Band-Aid and baby shampoo company of all time—"But Johnson and Johnson turned on me!" J-Dawg3 yelled. "They said there were one too many Johnsons. Because of my unbeatable toe fungus, I was the one voted out of the company."
J-Dawg3 nursed his grudge, just like Johnson & Johnson nursed millions of babies for well over a century, waiting for the perfect moment to strike. After the blackmail video was released, scientists speculated that his utter spite had somehow sustained him all those years, despite his crippling podiatric outgrowth.
With the rollout of the coronavirus vaccines, J-Dawg3 finally found his perfect moment. "It couldn't be too bad, because I actually need people to get vaccinated. I mean, I'm over 130 years old," J-Dawg3 conceded. "I needed it to be just the right amount of tampering so that the rollout would stop and the press would shit all over them. I'm like the Goldilocks of ultimate centuries-long revenge." Perhaps because he's a Boomer to Boomers, J-Dawg3 somehow didn't catch how unthreatening that metaphor made him sound.
Authorities are working to track down the third Johnson, but his anonymity makes it nearly impossible. "Even after you remove Johnson & Johnson, there's still so many damn Johnsons in this country!" one federal agent wailed.
The video didn't only impact the Ziploc conglomerate—multiple people with the name Johnson have reported increasing numbers of harassment and physical attacks over the past week.
"I keep being called 'clotter' and people throw their used Moderna vaccine needles at me," sobbed a Johnson of Johnson County, Missouri. "Their shampoo may be 'no tear, but I am not."