Burnt-Out Senior Joins 200-Level Poetry Class Butt Naked with Poem About the Futility of Higher Education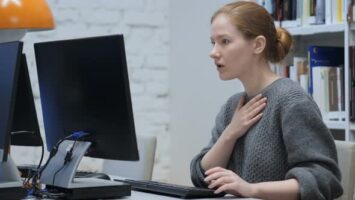 "There once was a student from Dallas / Who tried coding and realized he sucked ass…" began a poem submitted to Prof. Heidi Ashell's "Poetry for Lil Huddy Fans" class by senior marketing major Chad Biznis this past week.
A concerned Prof. Ashell forwarded Chad's latest poem to his academic advisor after she noticed that he had stopped bothering to put on a single item of clothing to join the class's 3pm Zoom calls. "Not even a sweatband with his frat's logo on it to keep his quarantine haircut out of his eyes!" she revealed to Flipside with a distinct look of horror.
For Chad, whose solid 2.3 GPA and trust fund money ensure him a six-figure job at a top investing firm within six minutes of graduation, "Hype House Rhymes" was supposed to be a breath of fresh BS. "I was just looking for a class where I could submit my Jose Cuervo epiphanies for an easy A," he explains. "But Professor Ashell kept saying that creativity is graded on a curve and you can't submit Snoop Dogg lyrics instead of a sonnet, and I just lost it."
A Flipside representative attempted to continue the interview with Chad, but could not stand to stare at the nipple-eyes of the lifesize Garfield tattooed on his bare chest for another second.