Godzilla vs. Kong "Enemies to Lovers Slowburn Mpreg Smut Vore AO3" Fanfiction Revealed As Inspiration for Next Monsterverse Film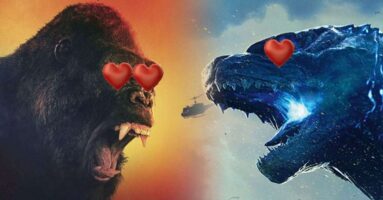 After the domination of Godzilla vs. Kong at domestic, international, and reptilian box offices, Legendary Entertainment has revealed their plans for the next feature film in the Monsterverse, inspired by a popular online fanfiction tagged with "smut", "slowburn", and "enemies to lovers".
"[Godzilla vs Kong] had a lot of setup," creative lead Mahn Sterr Fulcher said in a recent Twitter thread. "Fans felt the hot, heavy, palpable romantic tension that we built up between the two kaiju. And this wasn't just to queerbait — we've got a lot in store for fans of Kongzilla."
The statement came shortly after a user on 4Chan posted what appeared to be images of a new Monsterverse script, titled Kongzilla: Titans in Tokyo, with Fulcher and well-known romcom powerhouse director J.J. Abrams' names on the front. "I'm looking forward to taking on this project," Abrams said in an interview with popular fanfiction site Archive Of Our Own. "The vore and male pregnancy communities haven't seen enough representation on screen — Lord knows I've tried to give it to them — but this will be the perfect avenue to see some hot monster seed get spread."
Longtime fans were supportive of the interracial gay relationship finally making it to the screen. Many also reported feeling "relieved" in light of allegations that King Kong may be straight after footage of him obsessing over a woman in 1933 was recently uncovered. However, the king of apes himself recently remarked on the matter, attributing his behavior to a "lapse in judgement" and "comphet".
This is a developing story, much like the freakish gorilla-lizard babies brewing in Godzilla's womb.