From the Archives: Due to Spanish Flu, Dillo Day Will Once Again be Held Over the Radio Instead of In-Person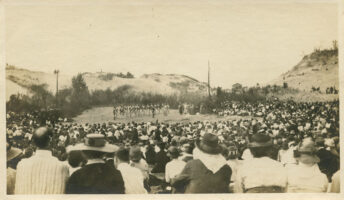 The following is a transcript of a campus-wide broadcast from 7:00 A.M. on Saturday, May 19, 1917.
Good afternoon, students of Northwestern University. This is Hubert Parsley (class of '20), speaking to you live on-air from the newly-repurposed Telegraph Room in Deering, Northwestern's only library.
Students have been greatly anticipating the annual celebration of Armadillo Day, a festival when musical performers from all over the nation come to sing for students. Last year's headline performer, Mr. Scott Joplin, enchanted students with his progressive "Rag-Time" music. Boys and girls were found doing the foxtrot in the streets until sunrise the following morning.
Unfortunately, Mr. Joplin passed away last month due to syphilis, which posed a difficult question for our dedicated May-Festival organizers. However, this question was quickly answered by the light global onset of a deadly disease: the Spanish Flu. As a result of this pandemic, students will be sent home for a short two-week break, before returning to campus to finish off the academic year.
In the meanwhile, Armadillo Day will be held over the radio, with performances from Irving Berlin, opera star Aubergine Cantate, and the Pin-Up Girls.
And now, a recorded statement from University President Premorton Schapireau:
"While the loss of our dear friend Mr. Joplin, and Armadillo Day as a whole, is a shame, we have decided to start preparing for next year. We discovered that holding our concert in the middle of the lake is inefficient and unethical—especially given that pianos don't float—so we will be constructing a 'Lake-Fill' that will become our future concert stage."
This sort of project will undoubtedly sink the university into an eventual budgetary depression, but the idea of altering our terrain is an exciting one. What makes it even more exciting is that it's just one more place to stash contraband beer bottles other than the newly erected Bobb Hall!
The loss of Armadillo Day is certainly a disappointment, but students will be relieved to hear that the first annual Northwestern University Dance Marathon, and all future iterations, have also been canceled.