New Roommates Discover Dorm Room Has Only One Bed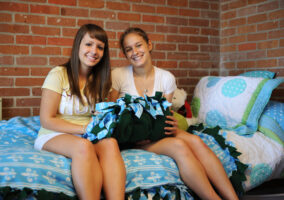 As freshman Interpersonal Relations major Kinsleigh Prettyface dragged her bedazzled bright purple suitcase through the lobby of Allison Hall for the first time, she never expected that within a matter of minutes her honey-colored messy bun and perfectly-shaped head would be shaking in surprise. Kinsleigh's roommate, Ashleigh Watt-Padd, was already waiting inside their room (number 169), tucking her perfect coconut-brown curls behind her ears and frowning.
The girls were about to make a shocking discovery: their dorm room only had one XL twin bed. According to Ashleigh, Kinsleigh's round, perky cheeks started to turn red as she realized the dilemma, but Ashleigh kept her cool.
"I mean, we're both girls, right?" Ashleigh reasoned after the fact to a Flipside representative. "There's nothing romantic about two girls snuggled into a 6' by 3' bed." Kinsleigh, on the other hand, reportedly had a flashback to the time she kissed her childhood best friend Emileigh in a treehouse.
When asked how the sleeping arrangements affected their relationship as roommates, the Leighs responded that they are "closer than ever, in a platonic way." Kinsleigh added: "Sure, we shoot each other longing glances while we eat our instant ramen together, but that's in a totally BFF way." They then proceeded to make out with tongue.
Flipside reached out to a representative from NU Residential Services, who revealed that local RAs purposely remove the second bed from double rooms for personal entertainment.
"What else are we supposed to do during the Bachelor off-season?"