Willard Residents Have "Night of Their Lives" After Drinking 2 Truly's and Singing Showtunes by the Piano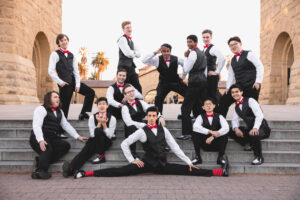 "Lit, crazy, movie," responds one Willard resident when asked about his Saturday night, "we spent the whole night gathered by the lounge piano, singing Newsies and Hamilton soundtracks. It was a blast!" Indeed, any Willard visitor or person who forgot that Fran's closes early on the weekends (as was your correspondent's case) couldn't miss the distinct music coming from the lobby.
Reports indicate that this party, which lasted through the night (2 AM), was more of a celebration of the theatre ("pronounced thee-ate-her, you classless hack!"), and definitely not a one-up contest of who was the better Tevye in their high school's production of Fiddler on the Roof.
Love was also in the air that night. One resident told us that "Julia was totally making looks at me when we sung Without Love from Hairspray. I wanted to make a move, but I was blaaaaaacked from the seltzers that Tony's older brother got him during Wildcat Welcome."
Performers say the night was more memorable because of the thrill of almost being busted. Many were worried that Sarah's "flat fucking voice" would surely alert the security guard of their insobriety.
For those who frequent the Willard lobby, whether it be for Fran's, for the singular weight in the gym, or to get a temp card when you lock yourself out of your dorm, expect to hear more of these musical memories being made as the year marches incessantly onward.