5 Group Costumes Your Friends Will Try To Rope You Into And 20 Slightly Different Ways to Say "Haha Maybe…."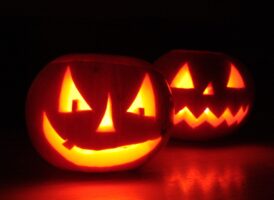 Though it's that time of year where your friends will inevitably try to persuade you to join their terribly planned and mildly problematic group costume, know that there is always a way out. For every "guys, how about sexy anti-vaxxers?" there will always be a "lol I don't know maybe lol."
Bad group costumes are the backbone of the spooky season, and we've heard them all before: slutty cats, slutty nurses, slutty celebrities dressed as other slutty celebrities, the Canadian live-action musical-comedy children's television series "The Doodlebops," slutty witches, a sluttier version of your wildcat welcome t-shirt, etc. While it can be much easier and overall healthier for your friendship to just directly decline the offer, here are a few ways to say no without saying no at all!
Hahah maybe….
Oh yeah – I mean maybe – I mean I don't know
I guess we'll see now won't we
Um
Hahahahahahahahah what?
That's definitely something you just said
Wow
That's for sure an idea someone at some point in time could wear to something
No, I definitely don't think that's offensive
Yes, but in a much more real way, maybe
I believe that it would be better to set up a committee to review the issue and to report back with their findings after the conclusion of a detailed study
My mom will definitely have to talk to your mom about it
It's not you, it's me
Maybe on a bones day, idk
I would, but my SESP major just keeps me sooooo busy
So, what do you think of that Rebecca Blank huh?
I'll get back to you as soon as I have my CAPS appointment
I want you to know first that I have a moped. Ok now ask again
Dude my yakkarma is like 600. Wait where are you going?
Fine
At the end of the day, if you can't beat 'em, join 'em. Maybe it really was divine intervention that cut that deep V into your class of 2023 t-shirt. Perhaps we'll never know.