In the Name of Political Correctness, Joe Biden Refers to the "Humanitarian Crisis in Yemen" as the "Humanitarian Crisis in Yepeople"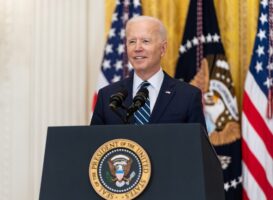 During his weekly press conference, President Joe Biden referred to the "humanitarian crisis in Yemen" as the "humanitarian crisis in Yepeople," spurring confusion from literally every single person in the room.
"Words have meanings," Biden declared. "It is important that we recognize the importance of the meanings that the words we use have. Because of this, I call on every patriotic American to recognize that the plight of the people of Yepeople. There are—I believe—there are 279 billion people in need of humanitarian assistance, wait … excuse me, 278 billion, no, sorry, seven, just seven, solely 7 billion people …"
At this point, White House Press Secretary Jen Psaki looked at her watch and began praying for that Ambien the president took just a few minutes ago to kick in.
"Look. The numbers don't matter," Biden said. "The point here is that the wonderful people of Yepeople need our help. This country does not consist of solely men. There are men and women in the country. And the others, too, like the nonbinaries and those folk. The country is rich with diversity. And it is entirely up to us—us Americans— to combat the humanitarian crisis in Yepeople."
Biden thanked the room and changed into athleisure wear to squeeze in a five-second bicycle date with First Lady Jill Biden upon his exit from the podium. It was unclear whether the president had run out of words to ramble or if the exhaustion of facing the second question of the day had finally overcome him.
After the press conference, President Biden let out a long, disappointed sigh. Looking over at Vice President Best Friend Kamala Harris, Biden moaned, "I can't believe I said, 'humanitarian crisis.' It's not just the humans who suffer, ya know, man? Words matter!"