New Marvel Movie Dares to Ask the Question: "What If We Made A New Marvel Movie?"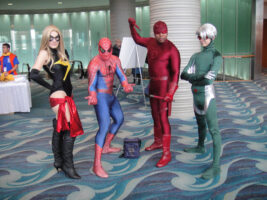 Announced at an impromptu press conference last Thursday, Disney's Marvel Studios have entered production for their groundbreaking new film, Marvel 26. Despite having already pushed the boundaries of cinema beyond what mainstream audiences had previously thought possible, Marvel Studios president and weird lookalike of your uncle Kevin Feige boldly assured reporters that Marvel 26 would be unlike anything the world of Marvel has ever seen before.
"Amidst a global pandemic, national political peril, unprecedented economic inequality, and the impending doom of climate change, we knew there was one question aching in the minds of millions: 'What if they made a new Marvel movie?' Marvel 26 daringly answers this question," said Feige. "Our goal in making this movie is to go where even the greatest pieces of cinema in history haven't gone—by using the same formula we used the last 25 times."
As expected, any information about Marvel 26 has been strictly confidential, but with the help of some anonymous inside sources (who have signed the appropriate waivers to accept their imminent gruesome deaths at the hands of Feige, once this information leaks), the Flipside has gained an exclusive scoop:
So far, the film's only confirmed cast member is its headliner, Timothée Chalamet—solidifying Marvel's monopoly on the popular white guy market. A heavily sexualized female actor will play opposite him, as well as a male best friend character who Chalamet will have infinitely more sexual tension with. When asked if Marvel 26 would be the first film in the franchise to feature a queer main character, Feige reportedly spit in our source's face.
The actor playing the antagonist is yet unknown, but our information tells us that they will be vaguely coded as a communist with an Eastern European accent, to ensure the capitalist moral high ground established by Marvels 1-25 remains strong.
The most surprising piece of news about the film comes from its plot—or rather, lack thereof. That's right: Marvel 26 simply will not have a storyline. "We've been prioritizing gratuitous fanservice and teasers for future movies over cohesive, well-paced plotlines for years," Feige said in a production meeting. "Why don't we go all the way? Storytelling in film is obsolete! The people want action! The people want fight scenes! The people want movies that are watered down to appeal to as wide of an audience as humanly possible! The people want ME! THE PEOPLE WANT KEVIN!"
Feige then proceeded to yell about his obscenely large paycheck for the next two hours and twenty-four minutes, in a subtle nod to the runtime of the upcoming film. Hollywood genius strikes again.