Pete Davidson's Pull Game Simply Threatens The Chad Dominated Status Quo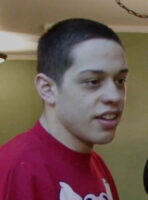 ---
Move aside, salmon shorts and weirdly toned calves! There's a new Mr. Steal Your Girl in town and his name isn't Dalton, Bryce, or even Timothée Chalamet. It's Pete Davidson. He might live with his mom, but he also lives in your girlfriend's dreams.
Davidson officially destroyed the Chads' decades-long reign (commonly known as the Chadopoly) on Halloween when he was spotted holding hands with Kim Kardashian. Davidson has been planning this coup for years, starting with him and Ariana Grande. If we do some comparative juxtaposition with Ariana's previous boyfies, the results are clear. Big Sean? Chad. Her backup dancers? Chads. Pete? Not a Chad.
This disruption in the aggregate demand for Chads is creating a surplus of Caucasity this cuffing season and reactions are mixed. While econ bros have started pushing for a conservative agenda harkening back to the golden age of "Abs or Dads," other Chads have taken this time to reflect on their identity.
"I'm starting to think that maybe being an attractive person also requires…having a nice personality?" says Ionlee Lift. Mitch Saw-Jinni is also changing his thoughts. "I used to think that only men were funny, now I know that only Pete Davidson is funny. Is this what oppression feels like?"
The Governing Board of Chads has released an official statement: "We realize that our behavior has contributed to people defaulting to Mr. Davidson. We apologize for normalizing toxic stereotypes of masculinity. Instead of gassing people up, we were too busy gaslighting women, which we now know is wrong."
---