Op-Ed: I can't rewatch Pitch Perfect anymore without envisioning the Barden Bellas being that one a cappella group echoing into the night from Kresge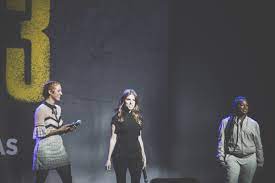 When I decided to devote my life to the craft of singing, I used to think some things would always be sacred. The exact tablespoon of honey in my morning Throat Coat tea. The slow crossfades at the end of Pentatonix's "Hallelujah" music video. And most of all, the "Pitch Perfect" movie.
No matter what was going on in my life, the Barden Bellas were always there for me. As the curses of public high school in Ohio hung over me like a shroud, the film became my religion. When I didn't get the lead in "Tumbleweed High School Presents: Pippin Jr.!", I bought a cape and reminded myself that Benji's final redemption arc started with rejection. I snuck headphones into gym class so I could do crunches to "Riff Off: Ladies of the '80s (Mickey/Like a Virgin/Hit Me with Your Best Shot/It Must Have Been Love), Songs About Sex (S&M/Let's Talk About Sex/I'll Make Love to You/Feels Like the First Time/No Diggity)". I practiced horizontal running by candlelight, alone in my drafty room.
Well, after three years at the campus that inspired "Pitch Perfect," I can safely say that while Northwestern's a cappella singers may be Bella-adjacent, they're mostly really fucking shrill. The media that defined my adolescence has been tarnished beyond repair.
Every time I try to watch "Pitch Perfect," the scene where the new a cappella recruits dance in the amphitheater is replaced by visions of upperclassmen belting off-key by the Willard piano. The Riff-Off just makes me think of prime time at Norbucks. And Beca's brave, brilliant mashup of The Sign/Eternal Flame/Turn the Beat Around falls flat when you imagine her singing a 10 p.m. drunk show in the basement of Harris Hall. The only group Pitch Perfect got even remotely correct was Purple Haze. (Blaze It.)
I haven't watched Pitch Perfect since October, and my cape is collecting dust. I don't know who I am anymore, but I now know how to get from CRC to anywhere without passing Kresge.