"Omi-Cron Kenobi" officially least favorite character in Star Wars/CDC multiverse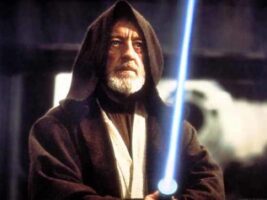 The beloved Star Wars franchise and the barely tolerated CDC Cinematic Universe are crowd testing a new crossover film that combines all the fun of the household Star Wars names with the fright, horror, and angst that the CDC has honed to perfection in recent years.
The film, titled The Variant Strikes Back, is being workshopped by the greatest minds in The Biz, and yet, there is worry amongst the cast and crew that people don't seem to be connecting with the Omi-Cron Kenobi character. Reports from test audiences found Kenobi to "get under people's skin", with some even saying that he is "a plague to the original franchise".
Alec Guinness, who played the original Obi-Wan Kenobi and is returning to recapture America's hearts with the Omi-Cron Kenobi role, says he doesn't understand the complaints.
"This role literally combines the two best parts of Star Wars and the CDC-CU," Guinness told reporters on the set of Variant. "Who wouldn't want to see Obi-Wan again, except this time he's wrinklier and has an irrational fear of shopping carts?"
Guinness' close friend and coworker, Dr. Anthony "Big Tony" Fauci, had a similar message.
"I think it really humanizes the Obi-Wan storyline," said Dr. Fauci. "He's in the 65 and older category, so even the Force can't protect him now. Perhaps he'll take a hint from the villain, Darth Ventilator, and start wearing some face masks and long robes as PPE."