Grassroots Cannibal Activists Eat from the Ground Up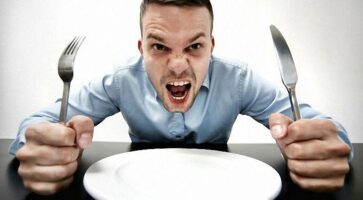 This Saturday, Chicago hosted the 30th annual convocation of Cannibals Help Out My Planet (CHOMP), a non-profit organization founded to clear up misconceptions about cannibal culture. However, due to what can either be construed as terribly clever or horribly misguided advertising, the site in Millennium Park was also overrun by a gaggle of confused vegans.
"I thought we were grinding cumin," said lifelong vegan Belle Peppers. "Not… you know."
Cannibals and vegans alike interacted during the event's various activities: an immersive boat ride through the Tunnel-O-Teeth, a smiling wax recreation of the Donner Party, and a pie-eating contest sponsored by a local barber from downtown Fleet Street.
"You are what you eat, you know?" says Beremy Injoux, the organization's current president. "And though I have no problem being a little fruity, I'm not trying to spend the rest of my life as a vegetable."
"People get a lot of things wrong about cannibals," he continued. "One thing you can be sure of is that the material is organically-produced, unlike some of those horrible companies out there. Everybody knows where it comes from."
"But we're not like those vegan folk," butted in vice president Cecil Tinvinokur. "You bet your derriere our meat isn't grass-fed. That would go against everything we believe in." He then leaned in closer. "Speaking of betting your derriere… I've got connections. Have you ever considered auctioning it off?"
In short, do not go anywhere near Millennium Park next year.