New Survey Finds Curling to be Best Olympic Sport to have Sex to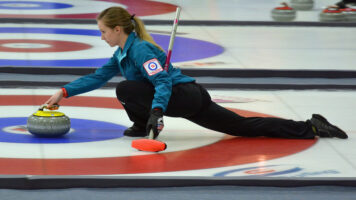 A shocking new report found that over fifty percent of couples prefer getting busy to curling than any other Olympic sport. Researchers were astounded, as they expected the high-octane thrills of the half pipe to correspond to the slightly lower octane thrills getting some full-pipe.
"It's just so sensual," regular Olympics viewer Thomas Tremblay told the Flipside. "The soft sweep of the broom, the cool glide of the stone on smooth ice. It just gets me in the mood for some spicy time. There's just something about those rocks that gets my mind thinking and my body moving."
Researchers also found that those who described themselves as both "submissive" and "breedable" were far more likely to enjoy making sweet, sweet love to each other in the blinding light of the ice. They hypothesized that this could link to a deep internal desire to be crushed between two big, hefty stones.
"Look, I know you all expected it to be speed skating or some shit," said Dr. Zazz, chief investigator for the survey. "But people these days already feel too much. They feel crushed under the thumb of a system that grinds out all of their value and spits them out as emotionless husks, completely draining their libido. When they get it on, they want to be reminded of a simpler time when all we did was fuck around with rocks."
Other responses described the sport as "like a nice Canadian, but sexy and stuff." It's unclear whether this implies that most Canadians are unsexy, or if curling is sexy because it reminded them of nice Canadians.