Two Roads Diverged in A Yellow Wood and My Wife Left Me: Poems By Willie Loman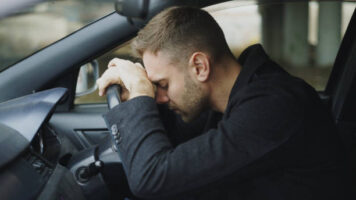 A new TikTok trend has gained popularity with men over forty and anyone suffering under late-stage capitalism. The #poemsbywillieloman trend went viral after account posted a series of videos of him speeding home while violently shaking his head to the beat of Party Rock Anthem by LMFAO, with this poem written in the caption:
"She took,
the kids.
Will crash,
this car."
–@Dan12_SmithBurner
Taking inspiration from the titular character in Death of a Salesman, some say the trend reflects an overall dissatisfaction with American life. A popular video under the hashtag shows an elderly man aggressively gyrating in a nursing home lounge to Party Rock Anthem, with the caption:
"Oatmeal and raisin goop,
The kids never visit,
My life is moot."
-@big_baby_brian
The Flipside reached out to social psychologist Steve Harvey to explain how this trend reveals the faults in the American Dream. His PR team responded with a poem of their own.
              "Teeth are shiny
My money green
Survey says,
I have no mouth,
but I must scream."
-Broderick Stephen Harvey, Sr
You can find more poems like this under the hashtag #poemsbywillieloman or by asking your mom if she's satisfied in life.