VeggieTales Officially Incorporated into Biblical Canon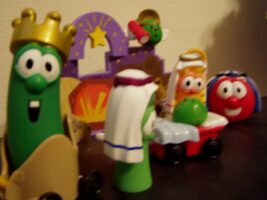 After decades of demands from biblical and vegetative enthusiasts alike, the animated children's show VeggieTales has finally been inducted into the Biblical Christian Universe (BCU).
The public can expect to find the carb-friendly canon at the back of all newly printed Bibles under the gospel "Bob and Larry," with illustrations hand-painted by some extremely dedicated vegan monks. This hip new addition will include classic stories as well as hymns, including "Amazing Grapes" and the beloved "Hairbrush Song," which has been confirmed to be a metaphor for the search to find the Garden of Eden.
The change comes amid the BCU's recent struggle to maintain its popularity as competition increases from rival cultural empires, such as the Scientology Multiverse and Witches/Wiccan Entertainment (WWE).
"We're hoping that the inclusion of these… 'VeggieTales' will draw in the younger crowd and build a new generation of holy souls," said Illinois priest Christopher Cross. "I personally don't see the appeal, but if preaching the lives of Lord-loving legumes is what we have to do, by G—I mean, by golly—we'll do it."
The opposition to the announcement is small, but very vocal. Diehard supporters of the Eucharist reject the pious produce, claiming that the only food group that can be connected to God is flaccid bread. Some dissidents have gone so far as to invert the medieval tradition of throwing tomatoes and lettuce on subjects of shame by instead spraying pesticide and dropping worms on their victims.
However, the majority of worshippers seem to have welcomed the plant-based program. Many are already showing their support with the saying, "a cucumber a day keeps the Antichrist away."